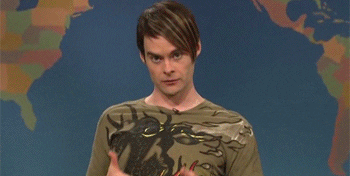 I know I'm usually boasting about how you have to go to this concert, see this show, or devour this food specialty, but with that virus out there, we want you to stay safely inside. So, I'm going to put my Stefon on hold (gasp!) and instead tap into the love of hygge to bring you some cabin fever remedies. And, if you're unfamiliar with hygge (Danish and Norwegian word for a mood of coziness and comfortable conviviality with feelings of wellness and contentment), get ready to lean into the cozy.
Movies
We all know that there's Netflix, Amazon Prime, Hulu, Disney+ (Frozen II is saving relationships between children and parents all around the world), but we want to give you something that most won't have. Super rad independent filmmakers have been compiling a doc full of their movies for free! It's not the prettiest of documents, but they are breaking their films down by categories ("Laugh and Smile"; "Nostalgia"; and there's even a "Virus" category), and these are films you won't find anywhere else. We love you, indie filmmakers!
*If you want more mainstream but still brain tickling movies, check out Kanopy. It's free and from the library!
Books
Remember when you used to say, "I wish I could read more, but I just don't have any time"? Well, that excuse may not work anymore, so we want to transport you into some cozy reads that will allow you to tap into your escapism and not cost you a penny. That's right, we scoured the sites to find you the places that give away e-books for free. Your phone, your kindle, your tablet, your scroll (okay, maybe not a scroll) can become your personal library with sites like bookdoggy, Robin, Freebooksy, and The Fussy Librarian. Scroll through their genres, click the book you want, and voila!
*If you prefer to listen to your book rather than read your book, check out the Hoopla App. Again, this is through the library (we love you libraries!), and they have everything. Seriously, if you've been wanting to learn about the Egyptian Pyramids and how they relate to the Polis, they've got you. I'm a super nerd, but my favorites are "The Great Courses." And, if you find them boring, extra bonus, they'll help you get to sleep at night when your mind is racing about how the world feels like a complete dumpster fire.
To Keep Your Hands and Body Busy
We are going to be stuck indoors for what seems like awhile (can you hear the echo from San Francisco and their "shelter in place"), so look around your house, your apartment, your room, whatever you have. What do you want to fix? What do you want to paint? What skill or craft have you always wanted to learn? This is the time for your DIY to shine, and we have a lovely little resource called YouTube to help you out. Here are a few of our favorites:
Crocheting: It's easy, it's meditative, and it's no longer your grandma's hobby! People are making tea cozies, super cute booties, and phone holders (to name a few of the 10,000+ crochet videos on YouTube). And, the great thing about yarn, you can wash it with soap and not have to worry about your lack of hand sanitizer or wipes to clean it!
Yoga: I got a text early this morning from a friend telling me that his now ex girlfriend threw his keys on the porch in the middle of the night. One of my other girlfriends told me she almost divorced her husband twice in two hours. And the word "homeschool" is now making grown adults basically wet their pants in fear and anxiety. In other words, we are going to need some time to ourselves to chill the hell down. If you haven't gotten into Yoga with Adriene, you are about to be finding what feels good all day long. She has lots of series, including: 30 days of yoga (friendly and awesome for beginners); Home (more about connection with self and surroundings); and Dedicate (a bit longer and I found them a bit more intense but really awesome). All of these last a full month, and hey, maybe by then we'll be back in studio and bending with our friends.
Fixing up the home but feeling like an idiot while you do it: Yes, we all want our home spaces to reflect our interests, our loves, our passions, and our creative ideas, but why are there 30,000 steps to just get a wall painted? There actually aren't 30,000 steps, and these peeps have broken down the most common home improvement projects so the videos are short, easy to understand, and meant for the average person. Seriously, no one in these videos mentions anything about a jigsaw, Mitre saw, or Dremel.
Food: Let's share recipes. I don't know about you all, but I'm always wandering in the dark when it comes to finding good recipes, and I miss the days when someone would pass me a 3X5 card that I knew was going to be a slam dunk in the taste bud department. Well, let me tell you, I had two slam dunks this week. One was a vegan shepherd's pie from Minimalist Baker, and the other was a Double Healthy Chocolate Zuccini bread (nut and dairy free). Want to hear the even better news? Everyone might be buying up peanut butter like it's toilet paper, but no one is touching the Kite Hill almond milk "cream cheese." So no elbows will need to be thrown to get these recipes warming your stomach and making your kitchen smell like home — the home we hope you find comfort in this week and for the weeks to come.
If you have recipes, databases of entertainment, or cabin fever life hacks, send them to kelley@nolavie.com. We want to keep the community happy and healthy together!